Gedney Farm Dinner Menu
Dinner Wed, Thurs, Fri & Sat   5pm – 9pm
Reservations Recommended  413.229.3131
Spring 2017 Menu
Salads & Starters
Mill River Farm Lettuces- $9
Shaved asparagus, fingerling croquettas, roast Japanese mushrooms & ramp sherry vinaigrette
Zinke's Micro Kale and Mini Greens – $8
Blistered grape tomatoes, shredded gouda gold & white balsamic
Arugula & Roots Salad – $9
Cured celery root, pickled radish, toasted pumpkin seeds & spring citrus dressing
Cajun Crab Cake – $14
Sweet pepper corn pudding, jerk fig jam & creole aioli
Tempura Shrimp- $15
Yuzu sweet chili & pickled vegetable slaw
Roast Sweet Potatoes with Spiced Figs – $12
Fresno chili, seared scallion, balsamic drizzle and feta
New Marlborough Pork Belly – $15
Cider glazed, pickled red cabbage, nashi pear & scallion
Farm Frites- $5
Hand cut russets with sea salt & trio of dips
Entree's 
NY Strip Steak – $31
Roast fingerlings, cauliflower gratin, grilled asparagus & charred pearl onions
Mill River Farm Pork Carnitas – $27
Aged grafton masa, grilled pineapple salsa & mixed spring vegetables
Saffron Fisherman's Stew – $25
North Atlantic cod, gulf shrimp, calamari, mussels, San Marzano tomatoes & herbs
Crumb Crusted Cod- $26
Saffron panisse, harissa aioli, pickled carrots, braised radishes & green beans
Black & White Salmon – $27
Jade rice, Asian greens, miso glaze & nashi pear chop chop
Strozzapreti & Artichokes- $22
Slow roast tomatoes, Tuscan white beans, pecorino broth & melted leek gremolata
Cavatappi Bolognese – $23
Pork and beef ragout, tomato, garlic & touch of cream
Indian Thali Platter – $19
Curried chickpeas & cauliflower, basmati rice, lemon clove chutney, radish raita & naan
Wine List
Sommelier Peter Miscikoski
White Wines
Malvasia – Birichino, Monterey, CA 14 – $39
Premsal & Callet – Anima Negra Quibia, Mallorca, Spain 14 – $38
Chenin Blanc – Cave de Saumur "Les Plantagenets" Loire France 15 – $42
Aligote – Domaine Louis Chenu et Filles Burgundy, Farnce 14 – $54
Coda di Volpe – Vadiaperti, Campania, Italy 2014 – $38
Trebbiano – Terraviva "Mario's 41", Abruzzo, Italy 13 – $41
Grenache Blanc & Albarino – Farmstrong "Field White" Sonoma, CA 14 – $50
Gewurztraminer – Schoenheitz "Classique" Alsace, France 12 – $38
Chardonnay – Domaine Eloy Saint-Véran, Burgundy, France 13 – $44
Sauvignon Blanc – Jerome Godon "Tradition" Sancerre, France 15 – $46
Ribolla Gialla – Forlorn Hope "Vara Vineyard" Napa 13 – $55
Godello – A. Coroa, Valdeorras, Galicia, Spain 13 – $42
Roussanne – Bonny Doon Vineyard, Le Cigare Blanc Réserve Arroyo Seco, CA 13 $150
Red Wines
Abouriou – Elian da Ros, Cotes Du Marmandiad, France 13 – $49
Grenache – Horse & Plow "Blockhouse Vineyard" Napa, CA 14 – $59
Trollinger – Thurnhof "St Magdalener" Bolzano, Italy 15 – $46
Perricone – Valdibella "Acamante", Sicily 2014 – $41
Barbera & Bonarda – La Stoppa "Trebbioli" Elimia-Romagna, Italy – $44
Merlot – Falesco "Tellus", Umbria, Italy 2013 – $42
Petit Rouge & Vuillermin – Diego Curtaz "Di Meun" Aosta Valley, Italy 14 – $57
Graciano – Idilico, "Upland Vineyard" Snipes Mountain, Woodinville, WA 12 – $66
Gamay – Remy Dufaitre Brouilly, Burgundy, France 13 – $58
Pinot Noir – for a Song, Willamette Valley, Or 12 – $39
Pinot Noir – Gardener, Sonoma Coast, Sonoma County, CA 13 – $53
Pinot Noir – B. Kosuge, "The Shop" Carneros, CA 12 – $75
Ploussard – Domaine de la Tournelle"Uva Ambrosiana" Jura, France 14 – $52
Syrah, Grenache & Mourvedre – Vinum Cellars, "Red Dirt Red", Pasa Robles, CA 13 – $47
Tinta Cão & Touriga – Somme+des+Parties, Red Mountain, WA 2013 – $67
Mourvèdre – Bonny Doon Vineyard, Le Cigare Réserve Central Coast, CA 12 – $150
Rose Wines
Grenache & Mourvedre – Bonny Doon "Vin Gris de Cigare" Central Coast, CA 15 – $41
Carignane & Syrah – Horse & Plow, North Coast, CA 15- $45
Half Bottles
Sauvignon Blanc & Semilion – Chateau Lamothe de Haux, Bordeaux 14 – $26
Grenache & Syrah– Vieux Lazaret Chateauneuf du Pape, France 12 – $45
Merlot & Cabernet Sauvignon – Chateau Lamothe de Haux, Bordeux 13 – $27
Sangiovese – Mazzei, "Fonterutoli" Chianti Classico, Campania 12 – $35
By the Glass
White
Alvarinho – Quinta da Raza, "Dom Diogo" Minho, Portugal 15 – $11
Turbiana – Ca' Lojera Lugana, Italy 14 – $13
Chenin Blanc & Viognier – Vinum Cellars "White Elephant", N Coast, CA  2014 – $13
Pinot Blanc & Pinot Gris – Horse & Plow, Napa Valley, CA 15 – $14
Rose
Grenache & Mourvedre – Bonny Doon "Vin Gris de Cigare" Central Coast, CA 15 – $12
Red
Petite Verdot & Cabernet Sauvignon – A Proper Claret, CA 14 – $11
Aglianico – D'Angelo "Sacravite" Basilicata, Italy 13 – $12
Negrette – Domaine Le Roc "La Folle Noire ol Ambat" Fronton, Fr 13 – $13
Carignane – Horse & Plow "Draft Horse Red" North Coast, CA 15 – $14
Champagne & Sparkling Wine
Domaine Pinon – Vouvray, Brut NV Loire, France – $12/gls
Scharffenberger – Brut Rose, Mendocino, CA NV – $14/gls
Syrah – Bonny Doon Vineyrd, "Sparkling" Central Coast, CA 11 – $65
Pierre Moncuit – "Cuvee Delos Grand Cru" Blanc de Blanc – $125
Cocktail Menu {by Tyler Stanton}
Rhubarb Manhattan – $14
Bulleit rye, Alessio Chinato Vermouth,
Zucco Rabarbaro, rhubarb bitters & cherries
Oh Burn – $14
El Buho mezcal, jalepeno infused chartreus,
Barrow's intense ginger liqueur & Hosta Hill hot sauce
Calvados Sazerac – $14
Daron calvados, Grande absinthe, house bitters & lemon
New Fashioned – $14
Jagermeister, Bulleit rye, lemon, agave, bitters,
orange & bourbon cherries
Ethereal Negroni – $14
BMD batch 13 ethereal gin,
Aperol, dry vermouth & orange
Old Fashioned – $14
BMD bourbon, orange, bourbon cherries, agave,
house made bitters & sweet vermouth
Towle's Bog – $14
BMD Ice Glen vodka, sweet vermouth,
Orleans bitters, Grand Marnier, cranberry juice,
muddled orange & cranberries
Every Wednesday through the early spring season (Last night April 26)
$25
Pick your own 3 course prix fixe from our regular dinner menu. Any appetizer, any entree and any dessert 
New menu items, drinks and wine
$5 extra charge for the steak entree
Not available for take out.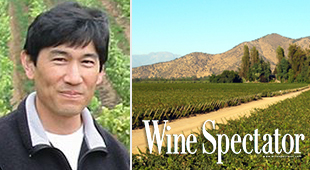 The next dinner in our winemaker dinner series is the return of Byron Kosuge, owner and winemaker of Kosuge Wines in Sonoma, CA.

The date is

Friday May 12th

, at

6:30 pm

, and will begin with a meet and greet with Byron before dinner festivities. The menu will be 4 courses with wine pairings, plus hors d' oeuvres & rose prior to seating. Pricing for dinner is $100 per person, which includes food, wine, tax & gratuity. Seating is limited.
---